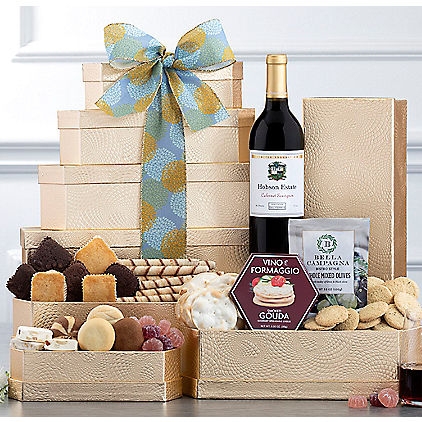 Hello, dear readers!
As we approach the latter half of 2023, the festive spirit is in the air, and what better way to express your love, gratitude, and appreciation than with a beautifully curated gift from Abundance Gift Design? With all the holidays and special occasions on the horizon, we've got you covered with the perfect gift for every event. Let's dive into the upcoming holidays and how you can make them memorable with our unique gifts.
Labor Day (September 4, Monday): Celebrate the hard work and dedication of your loved ones.
Grandparents' Day (September 10, Sunday): Grandparents are the pillars of our families. Shower them with love and nostalgia with a basket that brings back sweet memories.
 Patriot Day or September 11th (September 11, Monday): Honor the heroes who signify unity, strength, and resilience.
Stepfamily Day (September 16, Saturday): Celebrate the blended beauty of stepfamilies with a basket that symbolizes unity and love.
Citizenship Day (September 17, Sunday): Welcome new citizens or celebrate your own citizenship in our great nation.
Native American Day (September 22, Friday): Honor the rich heritage and traditions of Native Americans.
Boss's Day (October 16, Monday): Show appreciation of your boss.
Sweetest Day (October 21, Saturday): Make your loved one's day sweeter with a basket.
Halloween (October 31, Tuesday): Spook your friends and family with a Halloween-themed basket filled with tricks and treats.
Daylight Saving (November 5, Sunday): As the days get shorter, brighten up someone's day with a sunny and cheerful basket.
Veterans' Day (November 11, Saturday): Salute the brave with a patriotic basket that pays tribute to their service.
Thanksgiving (November 23, Thursday): Express your gratitude with a basket filled with festive treats and Thanksgiving essentials.
Black Friday (November 24, Friday): Skip the shopping frenzy and gift a basket that offers a curated shopping experience.
Cyber Monday (November 27, Monday): In the digital age, surprise someone with a great gift.
Pearl Harbor Remembrance Day (December 7, Thursday): Remember and honor with a basket that signifies peace, unity, and remembrance.
Christmas Day (December 25, Monday): Spread the festive cheer with a gift of Christmas spirit.
New Year's Eve (December 31, Sunday): Ring in the New Year with a gift that promises joy, and abundance.
At Abundance Gift Design, we believe in making every occasion special with our meticulously designed baskets and gifts. As 2023 unfolds, let's make every celebration memorable together!
Happy Gifting! 🎁🎉